Welcome to Algoa Plastics | Established 1994
Manufacturers and Distributors of Plastic and Packaging Materials
Algoa Plastics is located in 6th Avenue, Newton Park, where they have introduced their new retail packaging section - "THE PACKAGING WAREHOUSE."
Besides still concentrating on our initial core business of flexible packaging, we have also grown our product range to include a vast range of new packaging products.
We are particularly excited about our growing range of earth-friendly products which include:
- The Baobab range of Biodegradable Plastic bags;
- Bio-compostable Cups and Tubs made from Plant Starch;
- Meal boxes and containers made from sugar cane;
- Our range of Paper Products such as Paper Bags and Boxes harvested from sustainable forests;
- Biodegradable and Paper Straws;
- A range of wood packaging made from Birchwood and Bamboo.
Please feel free to visit us or contact us to arrange for one of our representatives to visit you to discuss your Biodegradable packaging options.
BIODEGRADABLE PLASTIC BAGS

BIODEGRADABLE PRODUCTS
Some of the biodegradable items in our product range: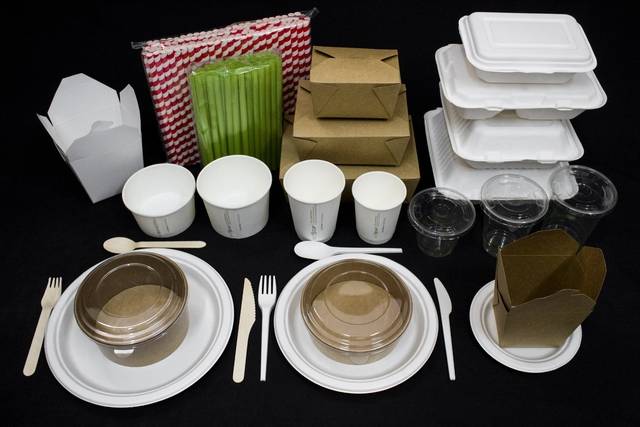 OTHER PRODUCTS AND SERVICES
WE STOCK OVER 300 DIFFERENT SIZE PLASTIC BAGS
OVER 30 DIFFERENT SIZE REFUSE BAGS
Bags can be manufactured from virgin or recycled plastic
We stock a large range of different width tubing which can be converted to bags of your choice. This ensures minimised quantities and minimised lead times.
Printing on plastic bags
Stretchwrap
Protective Packaging
Protective Wear
Plastic Rolls
Bag Closing Equipment
Woven Polyprop
Contact us:
Tel and address detail:
PORT ELIZABETH :
50 6th Avenue
Newton Park
6013
Port Elizabeth
South Africa

Contact detail:
Tel: (041) 364-0298
Fax: (041) 365-1683
CAPE TOWN DEPOT :
15 Muscat Rd

Saxenburg Park 1
Blackheath
Please note: Cape Town branch is just a depo and not a shop.
No stock on the premises, kindly order through Algoa plastics Port Elizabeth for collection.
Contact Details:
Tel: (068) 2658 762

E-mail:
herkie@algoaplastics.co.za

Using this site means you accept its
terms
| Copyright © 2022 Algoa Plastics, Port Elizabeth, South Africa
| website by